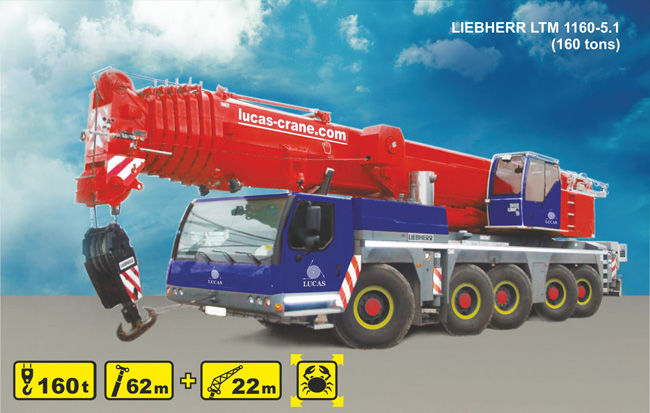 Mobile crane rental LIEBHERR LTM 1160-5.1
Height: 84 m
Loading capacity: 160 ton
Weight of crane: Weight in the transport position: 60 ton
Overall dimensions of the crane: 14,6 х 3 х 3,8 m
Crane boom length: 13,2 - 62 m. The lattice extender: 12 - 22 m
The LIEBHERR LTM 1160-5.1 truck crane has a loading capacity of 160 tons and the boom of 62 meters!
On a full boom the LIEBHERR LTM 1160-5.1 truck crane lifts 11.5 tons on the height of 60 meters! The lattice jib gives another 12 or 22 of meters! If necessary, the extender bends on 22.5 or 45 degrees!
With a length of only 14.6 meters, the German LIEBHERR LTM 1160-5.1 crane has the highest passing ability and manoeuvrability! All five axles of the crane are manageable! Four of five are driving-axles! This mobile crane has the crab steering and turns with a small radius!
The contour of the bearing part of the truck crane is only 8 x 7.5m! If necessary, our company will provide pads, for work on unpaved surfaces! The combination of all operations and a wide choice of the high-speed modes allow carrying out the tasks very fast!
Like all truck cranes of the German LIEBHERR concern, this mobile crane has the most modern technologies!
With the highest productivity and convenience in operation, the LIEBHERR LTM 1160-5.1 truck crane has the best security systems!
Electronic systems take into account the wind speed, soil subsidence and many other factors bearing the danger when working. The truck crane has a winter package of LIEBHERR plant, and it is able to work at the temperature up to 42 degrees below zero!