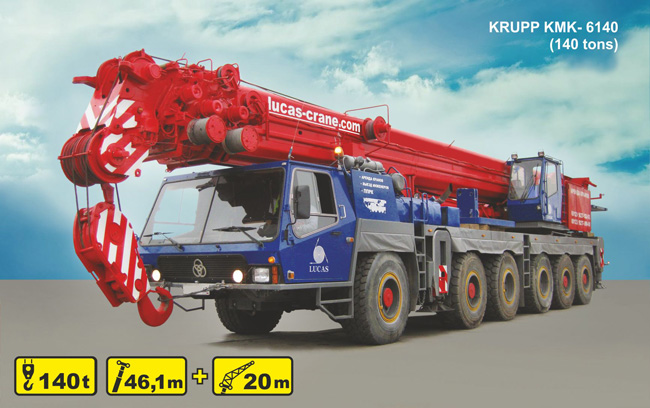 Mobile crane rental KRUPP KMK- 6140
Height: 70 m
Loading capacity: 140 ton
Weight of crane: Weight in the transport position: 68 ton
Overall dimensions of the crane: 17,3 х 3 х 3,87 m
Crane boom length: 14,6 - 50 m. The lattice extender: 12 - 20 m
The German KRUPP KMK 6140 truck crane with a loading capacity of 140 tons and a boom of 70 meters possesses the highest reliability.
Mobile crane KRUPP 140t on the basis of a special chassis has 6 axles with 12 x 8 wheel formula. Four of the six axles of the crane are steering and driving. Mobile Crane Krupp KMK 6140 has reduced transmission and blocking of centre and axle differential. That gives it an high passing ability.
Due to a large contour of the bearing part of 9 x 10 meters, the truck crane possesses the high stability. The truck crane has the load-lifting characteristics which are much better than its analogues'.
The full basic contour of the truck crane with a loading capacity of 140 tons is 9 x 10 meters; that gives it the increased stability, thus the crane has a working area of 360 degrees. The telescopic boom of the truck crane changes its length from 14 to 50 meters. Sections of an arrow are fixed by lock fingers; that gives additional rigidity to the telescope. The lattice extender of 20 meters increases the boom length to 70 meters. Counterloads of the KRUPP KMK 6140 truck crane is only 28 tons; that considerably saves time of transforming into working position and back to travel position, in comparison with analogs.
With overhang of 14 meters the crane's load-lifting characteristics exceed the modern truck cranes with a loading capacity of 160 tons!
The KRUPP KMK 6140 mobile crane has only 28 tons of counterload (while the analogues have 42 tons), that considerably saves time on setting the crane into operating position and back in the travel position.
Four of six axles of the truck crane are both driving and steering, therefore the truck crane has very high passing ability and manoeuvrability.
Crane installation of this truck crane has autonomous 8-cylinder engine of the Mercedes-Benz brand which puts some powerful hydraulic pumps giving to the crane the high speed of operations and their full compatibility. Each operation, including sliding of the sections of telescopic boom, has the additional accelerator.
The KRUPP KMK 6140 truck crane will help to solve the problems on transporting very heavy loads, mounting of the heavyweight equipment with big overhangs, bridge flights, beams and floors.
The services of the truck crane are often demanded on construction of the Western High-Speed Diameter and in the port of Ust-Luga. The crane is rented for lifting and lowering boats and yachts, mounting of modular unitized transformer substations, mounting and dismounting of the bridge cranes and many other kinds of works.
You can easily order the truck crane, the consultation of the engineer, the flow sheet or the cranes' work execution programme by giving a call to our managers or sending us the request.