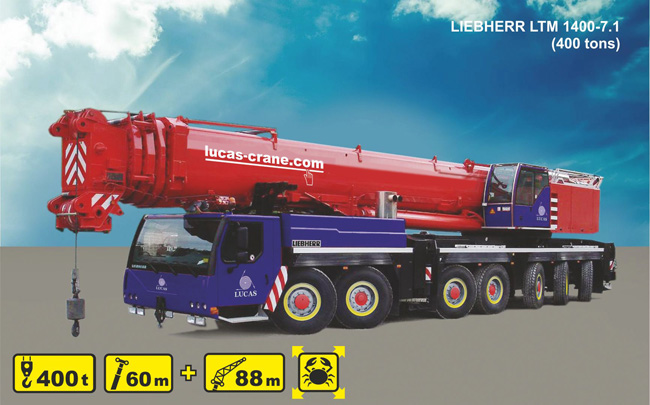 Mobile crane rental LIEBHERR LTM-1400-7.1
Loading capacity: 400 ton
Overall dimensions of the crane: 9,5м х 10,0 m
Crane boom length: 60 + удлинитель 94 m
The LIEBHERR LTM-1400-7.1 truck crane has the maximum loading capacity of 400 tons and the telescopic boom of 60 meters.
The truck crane has the lattice jib of 94 meters. The truck crane is capable to use the lattice jib in the tower crane mode! But unlike standard tower cranes, its load-lifting characteristics are few dozen times higher!
Despite the dimensions, the truck crane is more manoeuvrable, than a normal truck! All 7 axles are driving and steering! It has adjustable clearance height and suspender rigidity! Like all the truck cranes of the LIEBHERR brand it has the crab steering and very small turning radius!
The contour of the bearing part of the truck crane is 9.5m x 10.0m. The jib rotates 360 degrees, thus increasing the crane's work area! The truck crane has a set of the high-speed modes of each operation that allows to use it effectively when carrying out different types of works. The most modern computer of the truck crane completely controls all the parameters, including pressure in bearing parts and wind speed!
The truck crane can only be provided after preliminary site visit by the engineer of our company, and that guarantees 100% accomplishment of the tasks!