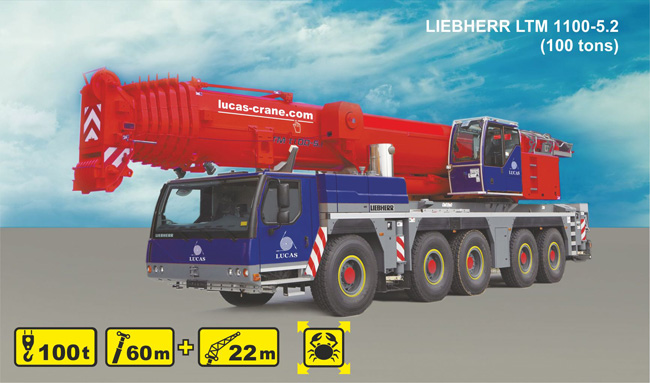 Mobile crane rental LIEBHERR LTM 1100
Height: 84 m
Loading capacity: 100 ton
Weight of crane: 60 ton
Overall dimensions of the crane: 14,7 х 3 х 3,8 m
Crane boom length: 11,5 - 60 m, jib 22 m
The LIEBHERR LTM 1100 mobile crane has a loading capacity of 100 tons and the main telescopic boom of 60 meters!
The LIEBHERR LTM 1100 mobile crane produced in Germany starts the line of the new truck cranes of our company acquired in 2012! The truck crane of 100 tons is based on own chassis with five steering axles, 4 of them are driving (10 x 8 wheel arrangement). The crane is capable to overcome steep ascents, to move on diagonal (the crab course) and to turn on spot (on small radius). Axial and interaxal blocking of four driving axles and low gears of automatic transmission make it extraordinary passable on soil, sandy and snow-covered platforms. The LIBHERR 100t truck crane has the suspender with the height adjustment and the set of settings.
The telescopic boom of LIEBHERR LTM 1100 moves forward from 11.5 to 60 meters. The double lattice extender of the truck crane will add 12 or 22 meters. That makes 82 meters in total. The extender changes the inclination angle for 22 and 45 degrees; it is often used when working on roofs of multi-storey buildings.
Using only one counterload weighting 12 tons, the crane is able to lift the load of 10 tons on the height of 58 meters!
The LIBHERR automobile crane has a loading capacity of 100t and a jib rotating 360 degrees. It is capable to lift the load weighing 30 tons in front of the cabin. Having a contour of the bearing part of 8.5 x 7m, LIEBHERR LTM 1100 can easily be placed on small site. The most modern technologies of the LIEBHERR 100t crane provide such information as load weight, wind speed, pressure of support upon soil, load height, the distance to load, change of positions in degrees and many other data ensuring convenience and safety when moving the load. Full combination of all operations and set of high-speed settings and additional accelerators, give the LIEBHERR LTM 1100 truck crane enormous productivity at any kinds of works.
Most often the LIEBHERR truck crane of 100 tons is demanded when mounting transformer substations, tower and bridge cranes, the equipment of plants and factories, systems of smoke removal, conditioning on multi-storey buildings and shopping malls, loading and unloading of the heavyweight equipment, equipment, rise and descent to water of boats, yachts and set of other works.
All the axes of the crane are manageable. The truck crane is able to move on a diagonal, and to turn with a small radius.
Each operation of the crane is regulated on the high-speed mode and has an additional accelerator. All the operations are compatible.
The LIEBHERR crane has the highest reliability and degree of safety.
The leasing of the LIEBHERR LTM 1100-4 truck crane will solve the most complex problems of transporting the loads.
Engineers of our company will consult you, and if necessary, will visit your site.