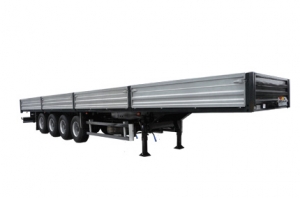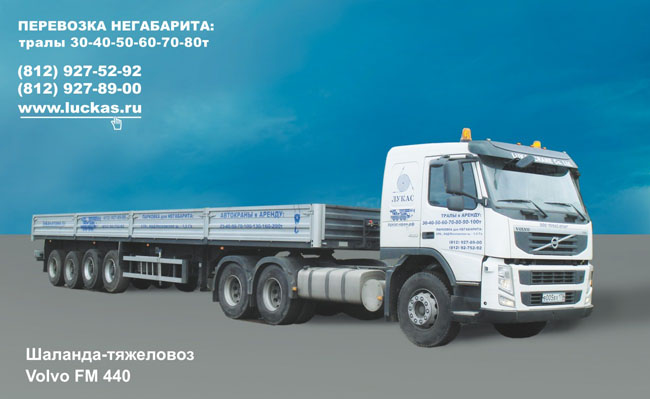 Volvo FM 440 heavy truck
Loading capacity: 45 ton
The heavy truck has a rigid-axle air suspension with adjustment on height. The first and the second axles are lifting: with automatic setting depending on loading. The Volvo FM 440 truck with the wheel formula 6х4 and the engine of 400h.p. possesses very high reliability, passing ability and power.
The 4-axles semi-trailer heavy truck (a platform with removable boards) is most often used for transportation of heavyweight loads, such as:
- road plates (2P30-18-30; 2P30-18-10);
- airfield plates (PAGE-14; PAGE-18; PDN);
- reinforced concrete and steel blocks, girders, beams, pipes, rings, panel fence sections;
- counterload, transformers, heavyweight equipment;
- tower and bridge cranes;
- metal constructions;
- reinforced concrete constructions;
- bricks, cement, tile, blocks and other loads on pallets;
- sea containers of 20 foots, 40 foots; and many other large-tonnage loads.
For more than 5 years, the LUKAS-KRAN company has exploited truck cranes with a loading capacity over 40 tons and has carried out difficult loading-unloading and installation works. For many years, we absolutely successfully have transported outsized cargoes with approval of routes and support of traffic police across Russia!
Specifications:
| | |
| --- | --- |
| Model | Volvo FM 440 |
| Lifting capacity | 45 000 kg |
| The total number of axles | 7 |
| Axels tractor Volvo FM 440 | 6х4 |

The dimensions of the loading platform:
| | |
| --- | --- |
| Length | 13,7m |
| Width | 2,55m |
| Loading height | 1,5m |