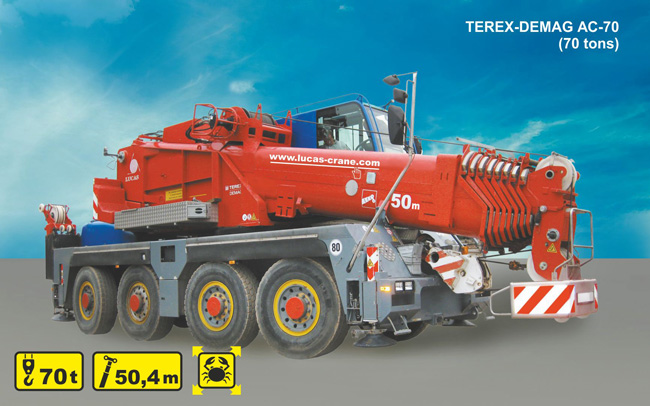 Mobile crane rental TEREX-DEMAG AC-70 City
Height: 51 m
Loading capacity: 70 ton
Weight of crane: 48 ton
Overall dimensions of the crane: 9,5 х 2,55 х 3,8 m
Crane boom length: 8 - 50,4 m
The TEREX-DEMAG AC70 City crane is the most compact mobile crane with a loading capacity of 70 tons in the world!
In travel position it is just 9 x 2.5 meters, while the truck crane has the 8-section boom of 50.6 meters and the jib rotates 360 degrees!
The perfect balance of axle load allows it to move with a speed of 80 km/h with the regular counterload of 11 tons!
All four axles of the truck crane are driving. They are managed both in automatic and in the manual mode!
The crane is able to move on diagonals and to turn on spot!
Blocking of axial and interaxle differential give the TEREX-DEMAG crane good passing ability. The hydraulic suspender of the truck crane allows changing the clearance height.
TEREX-DEMAG AC70 is indispensable on small sites and thin roads! Due to its compactness, manoeuvrability and telescopic boom of 50.6 meters, TEREX-DEMAG AC70 exceeds all the available analogues!
The TEREX-DEMAG AC 70 City mobile crane has incorporated the most modern technologies: pressure monitoring in supports, inclination, wind speed, clearing of fluctuations of the load. Each operation of the crane has digital speed adjustment and the additional accelerator. All the operations of this automobile crane are compatible.
Rent of the TEREX-DEMAG AC 70 City truck crane with a loading capacity 70t was irreplaceable during construction works on plant in Tikhvin, installation works in central districts of St. Petersburg, entertainment park on the Krestovsky island, on floors of "the Nevskaya Ratusha" business center, halls, limited platforms and on many other sites!
It is easy to order the compact TEREX-DEMAG truck crane with a loading capacity of 70 tons, you just need to give a call to our managers-consultants. If necessary, the engineers of the "LUCAS-CRANE" company will visit your site and will give necessary consultations to accomplish your heavyweight tasks!