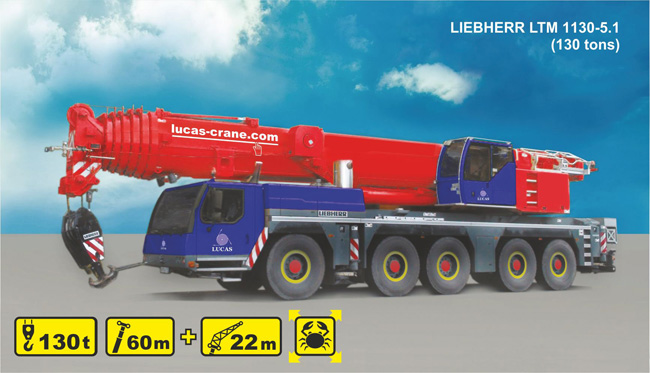 Mobile crane rental LIEBHERR LTM 1130-5.1
Height: 82 m
Loading capacity: 130 ton
Weight of crane: Weight in the transport position: 60 ton
Overall dimensions of the crane: 14,8 х 3 х 3,8 m
Crane boom length: 12,7 - 60 m, The lattice extender: 10 - 22 m
The LIEBHERR LTM 1130-5.1 truck crane has a loading capacity of 130 tons and the main boom of 60 meters. When using the extender, its length reaches 82 meters, the extender can also be inclined up to 45 degrees!
The new crane of the German LIEBHERR concern incorporated all the modern technical achievements: the truck crane has five axles, four of them are driving-axles, and each of them has automatic and manual control when manoeuvring!
The adjustable suspender allows changing clearance height. The LIEBHERR LTM 1130-5.1 mobile crane is able to go round a building corner at the turning of almost 90 degrees. Changing the course of front and back wheels, the truck crane is able to go aside and to turn on spot. The wide range of settings allows choosing the optimum high-speed modes for each operation. During the works at the big heights, the operator can change a cabin inclination, and that allows keeping comfortable position for operator's neck muscles. Full combination of all the operations and availability of accelerators on joysticks allow carrying out the transportations of loads very fast.
The truck crane is made for severe winters, and it is able to work at a temperature up to 42 degrees below zero!
The "LUKAS-CRANE" company provides the truck cranes with all the necessary slings and also with pads for unpaved surfaces! The LIEBHERR LTM 1130-5.1 truck crane will considerably reduce the terms of accomplishment of loading, unloading and installation works on your site!