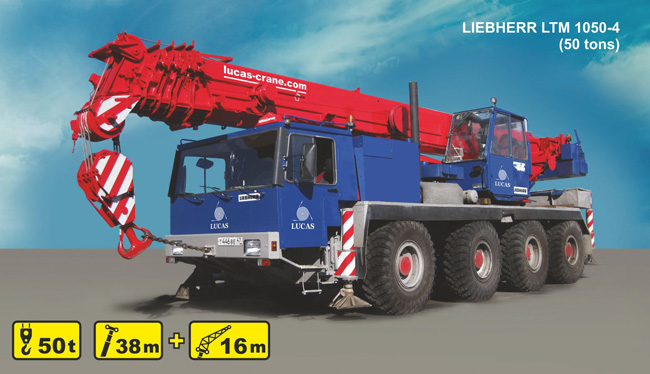 Mobile crane rental LIEBHERR LTM 1050-4
Height: 54 m
Loading capacity: 50 ton
Weight of crane: 45 ton
Overall dimensions of the crane: 11,5х2,68х3,7 m
Crane boom length: 11 - 40 m + jib: 10 -16 m
The LIEBHERR LTM 1050 - 4 truck crane has a loading capacity of 50 tons, the main boom of 40 meters and the lattice jib of 16 meters. The LIEBHERR LTM 1050-4 mobile crane is all-terrain vehicle with 8х6 wheel arrangement. The truck crane is created specially for off-roads and severe conditions of the North. The crane is indispensable on soil platforms in cross-country conditions and slush. 4 steering-axles of the crane allow it to get to the hard-to-reach spots easily. The work area of the truck crane covers complete 360 degrees; and that makes the truck crane indispensable in the constrained conditions.
Our LIEBHERR LTM 1050-4 mobile crane worked at the Yamal Peninsula for the "GAZPROM Burenie" company for a long time. Like the other mobile cranes of the German LIEBHERR concern, this truck crane combines exclusive reliability and high speed of operations on moving the loads. The leasing of the LIEBHERR LTM 1050-4 truck crane will considerably accelerate performance of loading, unloading and mounting works on your site.
The LIEBHERR LTM 1050-4 truck crane is ideally suitable for mounting and dismounting of metalwork, equipment, floor slabs, crossbars, beams, modular unitized transformer substations, support of the power transmission lines, boiler rooms, and also for lowering of boats and yachts, loading and unloading of heavyweight and bulky goods, carrying out any works in halls, buildings and platforms with limited space, and a set of other works. And it will be simply indispensable in cross-country conditions!
The leasing of the LIEBHERR LTM 1050-4 (50t) truck crane will considerably shorten the terms of loading-unloading and installation works on your site.
Managers-consultants of the "LUKAS-CRANE" company will consult you; and if necessary, our engineer will visit your site and will make all the necessary recommendations!
Additional schemes: