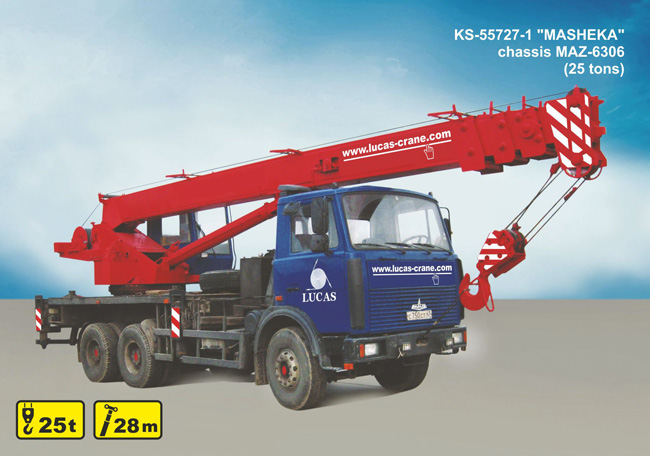 Mobile crane rental KS-55727 "MASHEKA"
Height: 27 m
Loading capacity: 25 ton
Weight of crane: 24,5 ton
Overall dimensions of the crane: 12 х 2,5 х 3,8 m
Crane boom length: 9,5 - 28 m
The truck crane KS-55727 "MASHEKA" with a loading capacity of 25 tons and 28-meter boom is most demanded when carrying mounting works at the height up to 22 meters.
The chassis of the Masheka automobile crane on the basis of MAZ-6303 possess high reliability and passing ability. The MAZ YaMZ-236B engine is famous for its ability to start up even in extreme cold. Two driving axles of the truck crane have the necessary blocking of differentials: axial and interaxal.
The Masheka truck crane has a telescopic boom which changes its length from 10 to 28 meters! Each section is fixed in final position by lock finger; that gives additional rigidity to the telescope. Outrigers of the crane are controlled with hydraulics from one distributor; that reduces the time of transforming from the travel position to working position and back. The contour of the bearing part of the "Masheka" truck crane with the loading capacity of 25 tons is only 5.0 x 5.4m. That allows placing the crane on small sites and dual highways! The combination of all the operations and accelerator of the winch provide high efficiency. The ONK-140 computer of the "Masheka" truck crane controls all the necessary parameters for the safe work: the load weight, boom length, working radius, crane loading as a percentage, roll in degrees. The ONK-140 provides the operator with the information on distance on which it is possible to shift the load.
The truck crane is often rented for mounting metal structures, sandwich panels, ceilings, transferring materials to the roof. The chassis of the MAZ-6303 crane have high reliability and passing ability.
The leasing of the truck crane "Masheka" (25t/28m) is highly demanded in St Petersburg on all the construction sites; and therefore it is necessary to send the requests for this crane in advance. However the "LUKAS-CRANE" company often executes urgent orders and provides the crane on the same day. To order the leasing of "Masheka" truck crane, you just need to give a call to our managers.