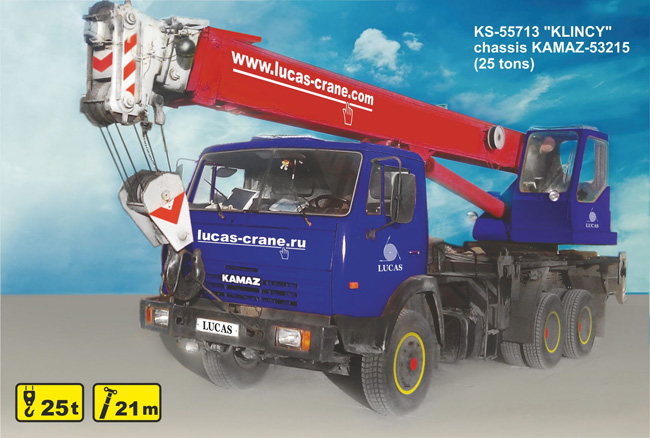 Mobile crane rental KS-55713 "KLINCY", chassis KAMAZ-53215
Height: 21 m
Loading capacity: 25 ton
Weight of crane: 24 ton
Overall dimensions of the crane: 10 х 2,5 х 3,8 m
Crane boom length: 9 - 21 m
Truck crane KS-55713 "KLINCY" with lifting capacity of 25 tonnes and 21-meter boom is popular on all the construction sites.
Turning of the front wheels of KAMAZ-53215, with changing of the inclination angle, makes truck crane's turning radius very small. KLINCY truck crane has two rear driving axles with blocking of axial and interaxle differential.
The chassis KAMAZ-53215 have good passing ability. The crane is one of few Russian sets. The jib rotates 360 degrees.
The telescopic boom changes its length from 9 to 21 meter very quickly - putting forward all the sections at the same time due to the polyspast rope system. The hydraulic system of the crane allows combining all the operations; that provides the high speed and productivity.
The truck crane winch accelerator considerably reduces the time of hoisting of the loads up to 2 tons and the time of returning of the empty hook-block. The truck crane's ONK-140 computer provides information about the load weight, working radius, boom length, rise height, distance on which it is possible shift the load, crane loading as a percentage. Also the computer of the "Klintsy" truck crane allows limiting the working area. That is extremely important when working indoors.
The Klintsy truck crane will solve all standard loading and unloading issues on the building site: unloading and transferring of any pallets with basic materials, fittings, change houses, containers, concrete goods, metal rolling and many other.
This truck crane will easily shift the materials to the roof of 5-store houses, mount the floor slabs, wall panels, beams and base blocks.
Managers of the "LUKAS-CRANE" company often provide the crane urgently, due to the high demand on the crane, but only preliminary request guarantees you timely providing equipment.
It is better to order the truck crane few days in advance, as the Klintsy truck crane is the most demanded.