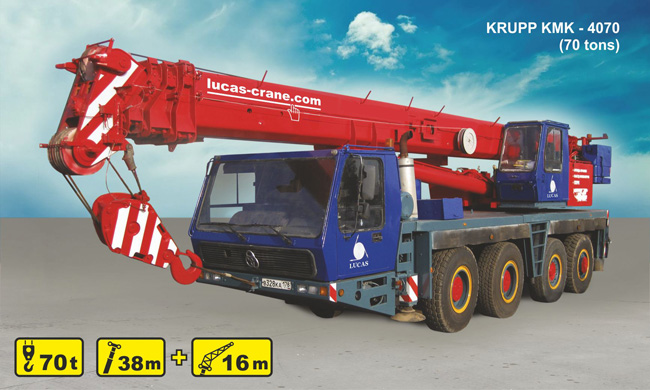 Mobile crane rental KRUPP KMK- 4070
Height: 54 m
Loading capacity: 70 ton
Weight of crane: 54 ton
Overall dimensions of the crane: 12 х 2,75 х 3,7 m
Crane boom length: 12 - 39 m, the lattice extender: 10 - 16 m
The leasing of KRUPP KMK - 4070 truck crane has a loading capacity of 70 tons and the boom of 54 meters is available in "LUCAS-CRANE" company.
The truck crane is assembled on the special chassis of the German KRUPP concern which has 4 axles with 8х6 wheel arrangement. The Mercedes-Benz engine of the KRUPP truck crane with a loading capacity of 70 tons is well-known for its reliability. The truck crane is able to move with a speed up to 80 km/h, it also has the hydraulic suspender with changing clearance height. Blocking of differential of driving axles and the steering axles give the truck crane high maneuverability and passing ability.
The KRUPP 70t truck crane has a telescopic boom, with the boom extension from 11.5 to 40 meters. Sections of the boom of the KRUPP KMK 4070 truck crane have no fixed position and allow setting any intermediate length; that is irreplaceable during the works indoors. The lattice extender of 16 meters increases the boom length to 56 meters. The crane works 360 degrees, perfectly combines all operations and has accelerators for each of them. All this in total give the truck crane very high efficiency. The KRUPP 70 t crane transforms to travel position and back to working position very quickly; that allows getting to other platforms quite fast. Thrust bearings of this crane are fixed on outrigers, and that considerably saves time when moving.
The leasing of the KRUPP mobile crane, just like the other German truck cranes, allows to considerably reduce the terms of construction and logistic operations.
The truck crane is often demanded when mounting transformer substations, concrete and asphalt mixing plants, transferring equipment and materials in ditches and on floors, loading and unloading of heavyweight loads.
Services of the truck crane were indispensable in the port of Ust-Luga during the installation works.
It is easy to use service of the truck crane: just give a call to a manager of our company.
If necessary, our engineer will visit your site and give a detailed consultation.