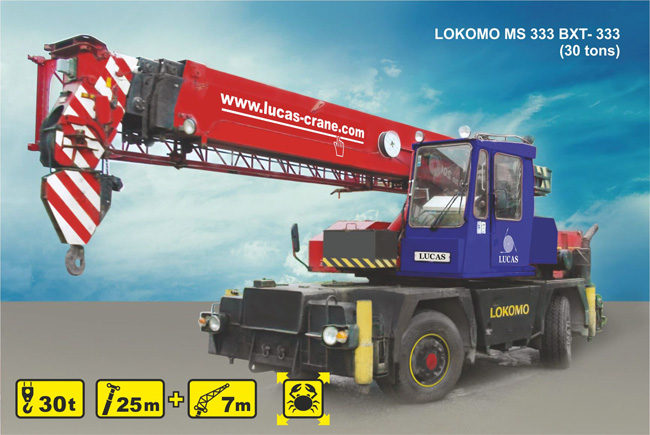 Mobile crane rental LOKOMO MS 333 BXT
Height: 32 m
Loading capacity: 30 ton
Weight of crane: 22,5 ton
Overall dimensions of the crane: 8,5 х 2,5 х 3,3 m
Crane boom length: 6,7 - 24,5 m, + 7 m m
Compact pneumowheel LOKOMO MS 333 BXT crane has a loading capacity of 30 tons and 25+7 meter boom. The truck crane is compact, and the jib rotates 360 degrees. That makes the truck crane indispensable when working in the constrained conditions.
This crane has a telescopic boom changing its length from 6.7 to 25 meters! The folding lattice jib is easy-to-mount; it extends the boom to 32 meters! The full contour of the bearing part of the crane is only 5.4 x 5.7m. The operator of the LOKOMO truck crane with a loading capacity of 30 tons can manage the chassis and crane installation from one operating point. That provides the highest productivity on any construction site!
The full all-wheel drive allows the truck crane to move off roads and on soil platforms.
The crane has the crab steering and is able to move on a diagonal and to turn on the spot!
The truck crane easily combines all the operations, it also has accelerators on each operation! Rise and lowering of the boom is carried out by means of pedals. That releases the driver's hands for other operations.
The LOKOMO MS 333 BXT truck crane has the Volvo engine which is well-known for its high reliability.
Normally, this automobile crane with a loading capacity of 30t is demanded on building sites with limited space: central part of St. Petersburg, bridges, viaducts, tunnels, halls, parkings, plants, seaports, cottage settlements and many other objects. The truck crane can unload and shift the materials after the journey, without platforms in general.
In Ust-Luga port, LOKOMO MS 333 BXT truck crane was the only option for mounting the metalwork on the sea dam which was 5.5 meters wide!
The leasing of the LOKOMO MS 333 BXT truck crane will considerably reduce terms of any construction work. You can only order the truck crane in advance and only for the term of not less than several days.