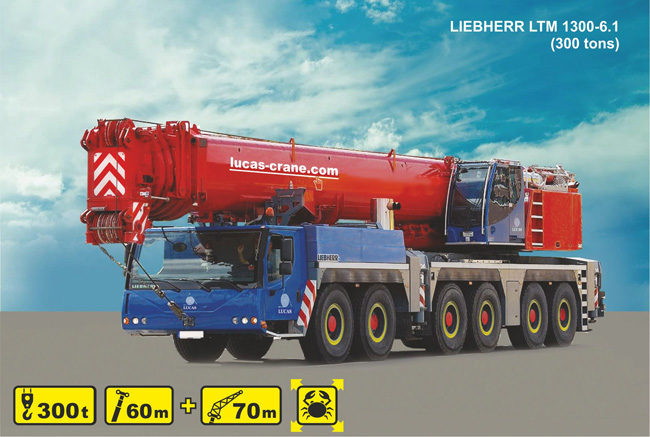 Mobile crane rental LIEBHERR LTM 1300-6.1
Loading capacity: 300 ton
Overall dimensions of the crane: 9 х 8,5 m
Crane boom length: 60 m
The LIEBHERR LTM 1300-6.1 truck crane has a loading capacity of 300 tons and the boom of 60 meters! The lattice jib can add up to 70 meters!
The truck crane has the highest passing ability and manoeuvrability! All six axles are steering! The crane has the crab steering and very small turning radius!
The contour of the bearing part of the truck crane is 9 x 8.5m! The combination of all operations and wide choice of the high-speed modes allow to accomplish the tasks very fast!
The LIEBHERR LTM 1300-6.1 truck crane has the most modern technologies! With the highest productivity and convenience in operation, the truck crane has the latest security system! The computer takes into account the wind speed, soil subsidence and many other factors bearing the danger when working.