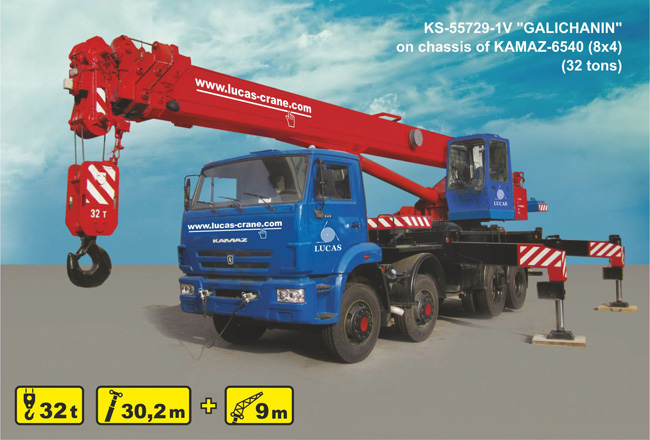 Mobile crane rental KS-55729-1V "GALICHANIN"
Loading capacity: 32 ton
Overall dimensions of the crane: 4,8 m х 5,8 m m
Crane boom length: 30,2 m
The "Galichanin" KS-55729-1V truck crane of with a loading capacity of 32 tons has a telescopic boom of 30.2 meters and the lattice jib of 9 meters.
The crane is quite compact, and its contour of the bearing part is just 4.8m x 5.8 meters! The truck crane transports an additional counterload itself.
"Galichanin" possesses the excellent manoeuvrability and passing ability. The truck crane has two front steering-axles and two back driving-axles.
The crane is very popular on construction sites when carrying out different mounting, loading and unloading works. The truck crane moves within the object and between objects very quickly, because it transforms from the travel position to working position and back very fast!
Due to its popularity, the crane should be ordered in advance! Managers of our company will help you to make it easily!